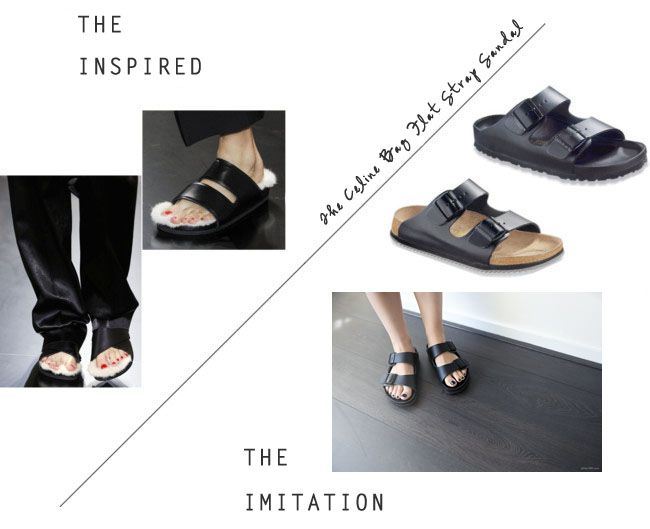 I don't know if it's just that I'm a big Celine disciple, and so I automatically credit the line for everything I like and think is cool, or if I'm actually making an accurate observation when I say what I'm about to say, but... I'd seen these
Celine Boxy Flat Strap Sandals
(as well as the
Cross Strap ones
) for this year's Spring/Summer collection, and then, all of a sudden, I began to see this particular silhouette crop up all over the place. Maybe Celine just made me more savvy to the trend; for that, I can definitely give it credit.
The other day, I was reading a post by Sabrina on her blog
afterDRK
, where she, too, confessed her new-found appreciation for this (I'll admit it) sort of unattractive and farty silhouette (also thanks to Celine), and showed off her new pair of Birkenstocks (see above photo) that she had purchased to mimic the look. She then directed us readers over to the
Bassike Spring/Summer 2013 lookbook
, where we were able to see this style idea in action.
When I saw it there, I was won over:
Therefore, I am now on the hunt for my own pair of "Celine-esque/Bassike-esque" Birkenstocks so I too can emulate this (insert-whichever-adjective-you-deem-appropriate-here) look. It shouldn't be very difficult as the Birkenstock is actually a very popular summer shoe here in Italy, and I could use a new pair as my old ones have definitely seen better days. Watch this space...